I want to ask a question is there any other way to convert my drums on my cavalier to discs without buying a brake kit.

I think that a Pontiac grand am rear end could possible mount up.......... but im not quite positive.... I will be doing research. It would have to be a later year grand am. I keep intouch

Currently there are two ways to convert your cavalier to rear disc conversion. These include the big brake kit you can buy from wilwood or brembro or bear. The other way is to use the 95-99 neon brake disc swap which is somewhat involved but will cut down on costs and maintenence costs. It is about 350 with junkyard parts and new parts to replace the worn items. This process does require some machining but is well worth the benefit to cost ratio. It has also been calculated that the neon rear disc swap with the stock cavalier master cylinder and line size are basically perfect. The distribution of braking is close to stock cavalier brakes which results in a well balanced braking system with increased performance. If your really interested in modding your cavalier you should really participate in the jbody.org forums you will get loads of information from the search button not that im against sharing the same information with people over and over im always glad to help but if you take the initiative you will have much better feedback. If you posted this in the jbody forum you would have been flamed for not using the search button. Just a warning before you enter the forums

but here is the link of how to
Neon Disc How To
Good luck im sure if you do this conversion you will be quite happy about the results you will receive.
*2012 mazdaspeed3*
actually there is a 3rd way it converts your brakes and suspension all in one mod!!! go to j-body.org and look for the IRS how to at the top of the suspension page. it tells you how to swap out you rear torsen bar for an independent rear suspension it gives you stiffer springs and 11" disc brakes


many changes in the making
my favorite part about doing bodywork,.......... bondo bugers

how does the neon swap work is there any directions? I did the neon brake swap search and came up with nothing.......

can anyone give me some info on this?

Andrew Anderson, I am no Cavi expert as this is not the ride is am whippin' around. But if you are a novice, a do-it-yourselfer, or weekend mechanic, then building a disc brake conversion from multiple cars will be auto suicide. Many have done this Neon-to-Cavi conversion. Many have succeeded, yet many have failed also. For the enthusiast who wants to upgrade a "brake system" for any car, and wants to do it correctly, with no worries, hassles, headaches and wants to get it done over the weekend, on the first time the project is set out, spending the money on a kit with every part needed and full instruction is without a doubt the way to go.
Now if building a hybrid is your thing, then hey who am I to argue.
But, know you are modifying your brake system. Think what will be Easy, Reliable, and most importantly...Safe.
After reading up on The Neon-to-Cavi conversion I found that it is a really popular conversion, with many who have completed the conversion. Yet, if you are not good with the modification aspect of auto building, then I would seriously consider spending the extra loot and have it done correctly. Remember, your life and the lives of those you ride with are riding on those brakes you will convert.


It's not how fast you go...But how you go fast.

Nico Santos wrote:

I want to ask a question is there any other way to convert my brake drums on my cavalier to discs without buying a brake kit.
Yeah, not that I know of. Why do you want to replace your brake drums with disc? I like drums than disc. But with drum bias, I can work with these two brake types.
I have early 4th gen J-body discs brakes on the rear of mine.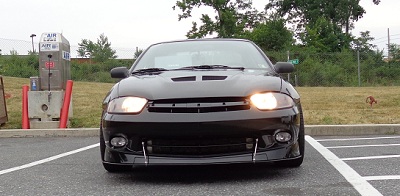 Tinkles(KGM) wrote:

I have early 4th gen J-body discs brakes on the rear of mine.
F-body, not J-body. There was never a 4th gen J.