I Have An 06 Cobalt Sedan Bone Stock.Took it to the track and wasnt satisfied.I havenet Done A tune up Does That Explain Why Im Not Hiting 16.3-16.4 Like They Should

Reaction: .003
I1 : 2.536
I2 : 7.096
I3 : 10.822
MPH (I3): 66.497
E.T. : 16.715
MPH : 82.334

Its called a driver mod, someone could make a stock eco run a 15 flat or 20 flat, it all depends on the driver. a stock eco cav can run 15.5 or faster no problem, it all is with the driver. I think some guys in here are just embarrased they can't drive, all you guys that are runnin slower times, just keep practicing, thats what I did.

Um Ions are basically the same as a cobalt, they are a little lighter but ions aren't really that quick. faster than a cobalt, thats it but a jbody is way lighter still and is alot quicker, a stock 04 cav 5spd will hit a 15.0 with the right driver. I have seen it done.

Do you ever put it on the Dyno and reprogram the spec's ?

Congrats on you comment on ecotec stoc times !! I'm a firstimer at these forums, and I've been to the trac more than once, autotechician I know alot of those times are just fantasies, what bugs me the most is how the hell in the future do u know if what is technical is true.

Stock Sunfire.
9.92@71.34MPH

Car: 2003 Chevrolet Cavalier LS stock w/auto trans
R/T ... .610
60' ... 2.401
330 ... 6.949
1/8 ... 10.635
MPH ... 66.92
1000 ... 13.828
1/4 ... 16.567
MPH ... 82.26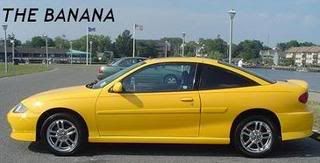 2002 Chevy Cavalier LS Sport; Mods: 2.5" Cat-Back exhuast, Spectre Performance Cold Air Ram Intake and Velocity Funnel Ducted from bumper, Comp Cams Sport Cam Gears, Aluminum Forged 10 Comp Pistons (Basically same as stock), and Upgraded 2 Step Launch Kit. I cant find the actual time slip, but I do have the RT and ET written down.

RT: 0.538
ET: 15.198

hmm havent been on this website much, but thought id enter my times...
stock i believe i ran 15.3 ish
tried slicks and exhaust cutout. 14.8
with a tune, DOT slicks, exhaust cutout, LSJ exhaust manifold and driver mod it ran 14.58
current mods
•Comp Cams Stage 1
•ZZP valve springs
•2.4L intake manifold swap
•LSJ Injectors
•02 fuel rail
•AEM cold air intake
•velocity stack
•B&M short shifter
•RK upper mount
•RK lower mount
•Prothane trans mounts
•tsudo header
•exhaust cutout
•M&H DOT Slicks
•Tuned by 'Innovative Tuning'
= 14.0 @ 101mph.
got some plans for this year...realisticaly expecting 13.7 +/- .1 ,still allmotor
14.04 @ 101 ALLMOTOR
15.4 stock 14.2@97 hp tuners, stock exhaust manifold, short intake, allprothane mounts, 17" wheels,2.5" cat back,7k rev limiter

hi my ecotec 2.2l esperated with nos

we made @ the quarter mile
10.8sec