Ekset Apparel of Santa Clarita, CA has launched a sweepstakes to win a track-tuned Dodge SRT-4. The vehicle, initially built for the
Super Street
Time Attack, has been outfitted with some of the automotive aftermarket's best products and will be in the hands of one lucky winner. To enter, participants can simply purchase
$50
or more of Ekset Apparel products either online at www.ekset.com or at any authorized Ekset Apparel dealer. Also, once entered via purchase, entrants can then
REFER
other buyers to buy Ekset to be re-entered an additional time.
Other prizes for runner-ups in the sweepstakes include Microsoft® Xbox 360®s and DuFFS Shoes. The sweepstakes is set to run until November 30, 2006 with a winner being selected in early December 2006. To help promote the sweepstakes, Ekset has also filmed a short video, "How to win a car" that is now circulating all over internet forums and is viewable at www.ekset.com. Check it out here:
Participating companies in the promotion include
DuFFS Shoes International
,
AEM
,
DCSports
,
H&R Springs
,
Autometer
and
SPEC Clutch
. For more information on how to enter and to see the Official Rules, please visit
www.ekset.com
or e-mail
info@ekset.com
.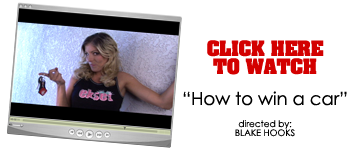 DUDE your clothing line is SICK!!


Quick and Extreme Car Club Co-President